Are we closing the wealth gap? It's a question that creeps into financially woke conversations as we celebrate Black History Month.
African Americans have struggled for centuries to build wealth in America. Historical injustices — including slavery, systematic inequality, employment discrimination, racist housing policies, and other barriers — have stymied economic well-being and harmed retirement confidence in the community.
This data was originally posted on Financial Literacy & African Americans: Bridging the Gap (annuity.org)
Today, the average white family has eight times the wealth of the average Black family, according to the Federal Reserve's 2019 Survey of Consumer Finances, which is conducted every three years.
Closing the racial wealth gap in the United States is a complex issue with no one-size-fits-all solution. But expanding financial literacy, education, and job training efforts can help, experts say. In 2019, white Americans had a median family wealth of $188,200, while Black Americans had a median family wealth of just $24,100. (Source: U.S. Federal Reserve)
The Mysticism of Money
Lawrence Gonzalez is an auditor for the U.S. Department of Treasury Office of Inspector General in Washington D.C. who says healthy conversations about personal finance often don't exist in Black culture.
"People never wanted to discuss money, understand it, or grow it," Gonzalez told Annuity.org. "There's almost a mysticism around it because not enough people understand the concepts."
Raised in Port-au-Prince, Haiti, with Brazilian roots, Gonzalez excelled at math at an early age. He came to the United States when he was 11 years old and graduated with a degree in accounting from Florida State University.
After starting his career, Gonzalez wanted to give back to the Black community. In 2018, he started a financial literacy platform called the Neighborhood Finance Guy to share practical knowledge about eliminating debt and building personal wealth.
Leveraging Common Experiences
Gonzalez says leveraging experiences common to Black culture can help break down barriers to financial literacy.
"My friends love basketball, so I use that as a metaphor to explain investing," he said. "You try to use anything to trigger an idea, a concept that clicks and stays with people."
Drawing on family ties is another strategy.
"Remember what your parents and grandparents did. They were always performing financial literacy principles around you, from meal prepping to side hustles to buying in bulk at the grocery store," Gonzalez said.
The Internet has also made financial information more readily available over the last 20 years. Mobile banking, investment apps, and online resources have helped level the playing field, according to Gonzalez.
"This information is more accessible than ever," he said. "Now it comes down to someone's personal motivation to pursue it."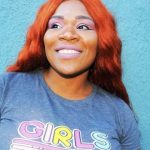 About Tahyira Savanna: Tahyira is a lifestyle journalist and writer.  Her interest includes human stories and introspection.  She interviews everyday people doing their part to make our world happier.
Follow her on Twitter @TAsterisk and Instagram @iletthegoodtimesroll