As a woman attorney, Lerae Funderberg understands the nuances of navigating the law profession as a woman, specifically as a Black woman. In an exclusive interview with swagher magazine Lerae opens up about the life of a lawyer, the journey on the road to becoming one and how aligning spiritually can help you reduce stress. Read below to get to know Ms. Lerae and all of who she is. 
In 5 words or less, describe your swagher?
Bold. Confident. Unapologetic. Spiritual. Boss.
How did you discover that you loved learning about law?
I actually love learning, period. I would go to school for the rest of my life if someone paid me to do it. Law school was my best learning experience and the first time I recall being challenged in an extremely long time. Reading and writing are two of my favorite things, and I love the creative way you're able to take something that's black and white and craft an argument that can change the course of the law or how it's applied moving forward.
At what age did you realize that you wanted to become an attorney, and what was that awakening like?
I actually didn't have a dream to be an attorney. In fact, I always wanted to be an elementary school teacher. Honestly, this path was paved for me based on other people's expectations of me. I was always told "you're smart, unemotional, logical, etc…you should be a lawyer." When I was in college and it was time to declare my major, I knew a few people who studied early childhood and they didn't seem to be learning what I believed to be very much, and as a first generation college student I didn't think anyone would be too happy with me studying early childhood. Instead, I studied what was interesting to me. Criminal justice and Spanish. The law thing just stemmed from that.
In what ways was the journey to becoming an attorney rigorous, and how did you cope while on the journey and after you arrived at your destiny?
Well, the school part was extremely rigorous. The process was one where you had to unlearn the manner in which you learned in school up to that point. We went through the entire semester reading and briefing cases and were presented with a final exam at the end of the semester, which looked nothing like anything you did all semester, but made up your entire grade. After three years of that game, we were then presented with the bar exam which also didn't resemble the exams we took in law school. The world thinks highly of attorneys, and the system that creates them does everything within its power to make sure only the best survives the process. It isn't one that encourages you to stay the course, but in fact tries to eliminate you every step of the way. 
What are some struggles that women lawyers, specifically Black women lawyers, face that their male and non-Black counterparts don't?
The legal profession is male dominated and the women, especially Black women lawyers, are forced to live up to their male counterparts, exhibit masculine traits, be strong, emotionless, insensitive, non-nurturing—you know, all the things that make us women. We are paid less, promoted less often, and worked twice as hard just to have a seat at the table. If you're a mother, forget about it. There's no sympathy, empathy or understanding for women lawyers who decide to become mothers. In the law firm culture, there's virtually no room for mothers.
When did you become aware that being a high powered Atlanta attorney was impacting your mental and emotional well-being? How did you address that realization?
I think I knew it before I entered the field. It's also what took me so long to get into my career. I didn't fit the mold of other attorneys and I wasn't willing to color inside the lines. I also had my kids not too long after I completed my legal studies and I stayed home with my son for the first few years of his life and did not practice. I bounced around a couple firms after I put my son in school and by the time I had my daughter, I'd decided to pave my own way and build a law practice with her in tow. 
As far as it impacting my emotional well-being, I think that came with the fact that I'd manage to pick up a drinking habit in law school. It was literally advocated at every function we were to attend. I noticed that after or even during a stressful day, having a drink became the norm. Ultimately, it was when I felt like I had reached certain levels of success, having no complaints, and generally living my best life, yet still having a feeling of lack or void, it had become clear that something was wrong. My initial response was to get a life coach. In those sessions, I realized what was missing was the connection to something greater than me, so I started to tap into spirituality. 
What inspired you to launch Elevate Legally?
I've been on a journey of sorts for years and have even become a certified health and wellness coach as a result. Once I was able to figure out what was missing for me, I knew that I could help other Black women lawyers find their balance in their lives because I am uniquely positioned as someone who lived the life and continually learns and grows in this space every single day.
Per your website, Your brand is "a comprehensive, holistic wellness company designed to reignite purpose and create harmonious lifestyles for high-achieving, women lawyers." How is the purpose of your company beneficial to women lawyers and career women over all?
It's beneficial because it puts the focus back on us. Women, especially Black women, have been groomed to take care of everyone but themselves. We have to raise businesses and babies, take care of home, our men, be a nurse, mediator, handy-woman and so much more. The term Black woman is synonymous with strength, superwoman, some invincible being that is constantly taking care of the world and neglecting our most precious assets—ourselves. But you can't pour from an empty cup, and our program is designed to take the guilt and selfishness out of self-care, self-love and self-preservation so that we may start creating and enforcing compassionate boundaries that allow us to thrive in all aspects of our lives and then living our purpose without experiencing burnout, depression or substance abuse.
What are some tools that Black career-oriented women can utilize in their everyday live that can make navigating the corporate world less stressful?
One of my favorite tools is timing myself for all of my projects that I'm working on. I do everything in 30-minute increments. If the assignment is incomplete after 30 minutes, depending on its priority, I'll do an additional 30 minutes, but not until I've taken a small break. I'm talking 5-10 minutes of getting away from my desk, doing some stretching and breathing, and maybe some dancing. Then I'm back at it again. 
I think planning your day out as much as possible is another good tool because it doesn't allow room for you to get distracted. It prevents you from allowing other tasks to get thrown in your day, keeping you from achieving your goals. Which brings me to emails—the ultimate distraction. Emails are just a housing space for everyone else's agendas. I would suggest dedicating only one time per day (twice if you must), where you check emails. And even when checking them, don't check them all. Browse through them and if there are emails from anyone related to the tasks you have for that day, then you check those. The rest can wait.
Ultimately, as entrepreneurs, we need to have real structure to our workday. A start and end time. Which means if your end time is 3 p.m., then you are not doing any work after 3 p.m., regardless of what is still on your list. Over time, the use of the timer will help you gauge much better how long it takes you to perform any task so that you're not creating schedules for yourself that are unworkable and lead to a sense of guilt for lack of completion. 
How can career-oriented women better prioritize themselves in their busy lives?
I'm a huge proponent of establishing a morning routine. It doesn't have to be extensive or another dreaded thing on your ever-expanding to-do list, it's literally a way to jumpstart your day with the focus being on you. It may require you to wake up earlier than everyone in your household so that you are able to really focus on yourself because once the kids are awake and the phones start ringing, you're already in go mode and without extreme discipline, it's very unlikely you'll create any space in your day just to honor you. 
How does Elevate Legally help women, specifically career women, become spiritually centered?
Taking some time for themselves every day to be alone. Our heads are filled with so many other people's ideas, perceptions, opinions, and expectations that we don't even know when our thoughts belong to us. In order to be spiritually aligned, you have to know your own voice so that you are able to trust yourself and your intuition. You have to make yourself a priority, your first priority, and say no to things that aren't in alignment with your desires. Meditation is a good tool. Speaking affirmations or positive words to yourself. Create a daily gratitude practice. Journaling is key, even when you think you have nothing to say. Treating yourself with the same compassion and grace that you provide your partners, clients, co-workers, etc. Know yourself and trust yourself. Treat your journey to spirituality with the same seriousness and fervor that you do in business. 
Why does every successful career-woman need to tap in to Elevate Legally?
People often define success by the types of careers they have or the money they make, but those same people quickly realize when they reach what they believe to be the pinnacle of their career, it's not at all what they'd imagine it would be. It's time to define success in how you feel, how you love, how you treat others and how you are connected to a higher power because that is when you find true happiness and inner peace.
What can women expect from you and your brand Elevate Legally in the near future?
I have high hopes for this brand as far as releasing my first personal development and self-help book under it, creating a planner, motivational speaking engagements, hosting retreats and providing reiki services (I'm a certified Reiki Master as well).
How can women connect with you?
Lots of ways!
678-814-6300
lerae@elevatelegally.com
List of social media platforms
IG: @officiallawyermommy
Twitter: @LawyerMomLerae
Facebook: facebook.com/b.lerae.funderburg
LinkedIn: linkedin.com/leraefunderburg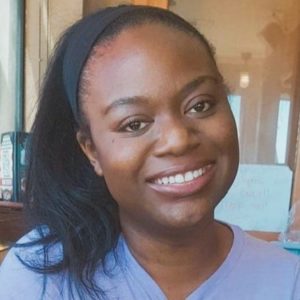 Angelica Cheyenne | Angelica Cheyenne is the Managing Editor of SwagHer Magazine, and is a contributing writer to BuzzFeed. Cheyenne also has over 6 years of experience in on-hair hosting, entertainment reporting, social media management and holds a B.A. in Communications and Journalism from California State University, Dominguez Hills.