Chakina "CC The Great" Watkins is an award-winning celebrity master hairstylist, mentor, coach, licensed faith-based counselor, professor of cosmetology, and a number one international best-selling author. To date, CC is the author of multiple books including, Hair University a textbook she created when she made history as the first professor of cosmetology for Tarrant county college and their cosmetology program. CC the Great's latest book Girl, Hold Your Own Damn Purse! a guide to taking responsibility for yourself, became a number one international bestseller in codependency self-help and motivation in just under eight hours on the largest bookstore on the planet, Amazon. Her expertise has been featured in Voyage Magazine, Southern Bride Magazine, Encore HD Magazine, and most recently True Life Magazine. Let's better acquainted with CC below.
In hindsight, CC believes the reason behind her books was the feeling of never being enough. It was this feeling that pushed her to make some changes at age 30, changes that included setting boundaries, reading more, becoming more assertive, and going to therapy.
At one point, the author clearly remembers a therapy session in which she asked her therapist if she was toxic? It was through multiple conversations with her therapist that they both were able to determine the issue is not being toxic but being very co-dependent.
Now typically when we hear co-dependent, we think of someone always in need of another for survival. But the co-dependency that is discussed in both books is about not having control over one's own stuff so you become controlling and obligated to someone else's.
The premise for the first book came after CC overcame the basics of her co-dependency, but the journey to the second book is where the real work began. "How can I talk about internal and mental healing when I have never even dealt with physical healing?" Chakina asked herself. 
Girl, Hold Your Own Damn Purse! discusses physical healing and recovery from a tummy tuck. The surgery was a success but the doctor failed to do the follow-up the next day. As a result, the infection that set in under the bandages went undetected for three days causing CC to develop fat necrosis. This resulted in a hole in her stomach and needing a wound vac for seven weeks.
It was during this time CC took an introspective look at who showed up for her and her family at her lowest and adjusted her circle accordingly. The author also had an epiphany; everyone benefits from your brokenness in one way or another. It is our brokenness/co-dependency that makes excuses and apologizes for the issues others won't fix themselves.
This journey through physical healing led her to an understanding of relationships that she probably wouldn't have experienced had she not had the complications post tummy tuck.
One of the greatest takeaways from this season of her life has been closure is not needed. The closure was their actions that led to the dissolution of the relationship. Moving forward, CC decided there are four key components that should be the pillars of relationships.
Be loyal to yourself

Love is an action word and should be reciprocated in what we see and not just what we hear

Set boundaries

Give the energy you receive
These four tips coupled with thinking before you speak in all situations will help to eliminate co-dependency and create healthy relationships.
When the world becomes too much and this beauty boss needs to recharge, she does what she calls falling off the face of the Earth. She will fast from whatever is necessary to mind wash and only take in what feeds her positive energy. She also gives herself the freedom to be blank.
CC wants the world to know Girl, Hold Your Own Damn Purse is a movement, but her ultimate goal is to empower women to realize we can walk together and support each other without losing ourselves.
The wife and mother is also the creator of Married and Proud, a retreat that helps couples empower their marriages; The Big Hat Boss Brunch, an annual brunch that gives mentoring and empowerment to female entrepreneurs; and Mo Betta Beat a mental health awareness concert that sheds light on mental health.
You can learn more about CC and connect with her below. 
Instagram: CC_thegreat 
Facebook: CC the Great 
Website ccthegreat.com
Jasmine Spencer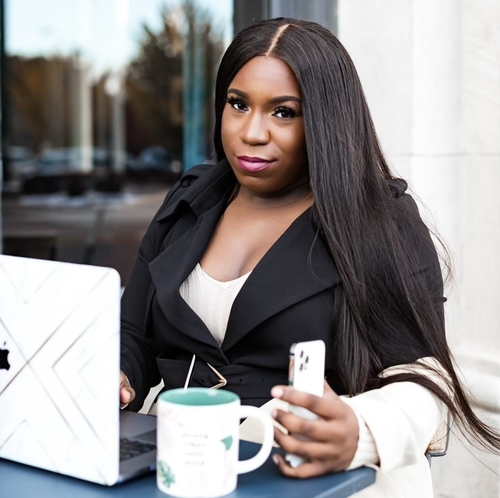 Jasmine is a native of Chicago and a graduate of Loyola University Chicago with a B.A. in Political Science. Jasmine started writing in 2018 as just a hobby. Since then it has grown into a passion. Jasmine considers herself to be a lifestyle and fashion blogger, a social medial manager, and social media strategist. She can be found on Instagram at @jas_is_peculiaroyalty.