Tijania Goodwin embodies unlimited creativity. From directing intricate and mindblowing photoshoots from i
nception to execution she wears many hats. Seeing the lack of a safe space for female creators she created the All Girl Brand Band. 
Goodwin shares with me what inspired her to create this collective and what she wants creatives to gain and accomplish while being a part of this supportive space.
Celebrating the launch with an inaugural event, Fem Creative Dinner, in December of 2021 at the Rush Arts Philadelphia. The event promoted the 5 Areas of  Wellness – which include the physical, mental, emotional, financial, as well as spiritual.
What inspired you to create AGBB?
My inspiration came from always working with a collective of amazing female creatives. I actually had a client who I worked with in February 2021 who said, " You ladies are amazing together, I am going to start calling you all the All Girl Brand Band."  From then it stuck but I had not put anything officially together.  I had been working with various women over the past year while creating great content.  We all worked so well together so I figured I would finally create a platform that embodies us as a whole.
What do you want to accomplish with this collective?
Through this collective, my goals are to stretch these women out of their comfort zones, network with other women like them, and also learn how to tap into their inner selves.  It is so important that no matter how old you are, you must start showing up for yourself physically, emotionally, spiritually, financially, and mentally.  This is how we are effectively going to create amazing content for our brands as well as for others. This is going to be an international brand.
What do you feel is missing from the support of women creatives?
I believe that women creatives are missing authenticity when it comes to supporting.  Women need to learn that so many things that are going on in the outside world can impact how one thinks and how one makes moves.  The biggest thing right now is social media which makes a huge impact on the mind.  People can become misleading and from that individuals or brands suffer in the long run.  If people are more honest and true to themselves, they will always attract the target audience for their business or brand.  They are also missing collaboration.  There is enough room for everyone at the table.  There is no need to be in competition with one another because every brand brings something different to the table. Well at least, that is how it is supposed to be.  Women can work with other women who have brands that complement one another.  Treat the collaboration like a healthy marriage.  You will unite to make an impact but always know there are going to be rough times.  The question is,"  Are you going to give up on something you are passionate about?" 
How can a female creative stand out in the midst of the free apps that offer "graphic creation"?
These free apps are a great tool but how you stand out is by being a true CREATIVE and design off the top of the brain.  Even though a lot of these apps provide you with templates, you can also use them for inspiration to go left and create something better.  It is a tool to assist you with making something that the app does not provide the subscriber.  Also, listen to the client when creating graphics because they know more than you do about the brand.  Everything they say about it, take notes, and create from there.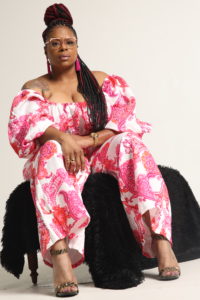 What advice do you have for a creative who feels that they do not have the talent to compete or wants to quit?
The advice I would give a creative would be there is nothing that you cannot do.  When being creative, your mind runs wild and you can come up with ideas left and right.  Learn whether you are an executor or a visionary because that will dictate how you take steps as a creative.  Also, know that everyone may not gravitate to you because of your "style" of work and that is okay.  You got this!
Follow AGBB on
Instagram
– Stay Tuned Membership will be opening back up in June 2022.