When girls are transitioning to womanhood it is critical for them to have mentors that can help them navigate puberty, adolescence and young adulthood more seamlessly. Founder of the DoV Club, Susan Jackson has established a program curated to nurture young women and girls into mature, upstanding and divinely designed women. Read our exclusive interview with Susan Jackson to learn more about her and her transformative mentorship program.
Angelica: What compelled you to become an educator and mentor to young women and girls?
Susan Jackson: Since I was a teenager, I have always enjoyed working with children, whether it was babysitting or working with children in various school environments. I believe becoming a teacher is a calling from God, and I know that was my purpose in life. As a teacher, we wear many hats in our profession, and one of those duties is to lead and mentor students. My experience being an educator is to build character in students, assist in their academic achievement and support their emotional [well being]. It is important that a teacher can transition into various roles such as a therapist, nurse, cheerleader, and the list goes on and on. Although being a teacher has its challenges, and the pay is limited, supporting and observing your student's growth is rewarding. 
When did you realize it was imperative to provide guidance and mentorship to girls of a certain age group?
Susan Jackson: It was imperative to provide guidance and mentorship to girls in the 4th and 5th grade.  Although some educators and parents feel mentoring girls should start at a younger age. From my observation of girls in the 4th and 5th grade, they  begin to mature earlier than their counterparts mentally and physically. In the school environments, I have taught and observed girls' school dress codes to be more revealing, conduct of behavior that is more mature. Girls' conversations are more in depth regarding boys, social media posts, and disgruntled talks about other girls in their classes or in the school environment.
Angelica: So, what exactly is the DoV Club and what is its mission? 
Susan Jackson: DoV means Daughters of Virtue and the mission is to teach girls virtuous character in a changing society. The DoV Club's foundation stands on a Biblical application of Proverbs 31, where the virtuous character of a woman is described in the chapter. Although societal values of a woman may change, her values should remain virtuous which makes a phenomenal woman. Also, the Dov Club's mission is to learn, lead and love. 
The DoV Club is a mentoring program that provides a safe place for girls to feel a part of a sisterhood. DoV Club is to empowHer, mentor and support girls from 10-18-years-old through DoV Club's Seven Principles. DoV Club's principles are academics, leadership, etiquette, entrepreneurship, emotional intelligence, social media responsible usage and community services. DoV Club's Seven Principles will in-part grow a girl to a well-rounded young woman.
Angelica: What was the inspiration behind the DoV club?
Susan Jackson: My inspiration for the DoV Club was based on building a sisterhood for girls. Basically, I wanted girls to know that girl friendships are a sisterhood and if you meet one friend and can keep that friend throughout your life it is a special bond. Growing up as a child, I was not exposed to any type of girl clubs or positive women relationships within my family. I believe if I did, I would have had positive girl-friend relationships. As a teacher observing the girl-friend dynamics in school, I wanted girls to know building friendships and learning how to be a friend is important. I felt there was a need for the DoV Club because girls could learn about maturing, health, nutrition, fitness and women's history.
Angelica: Since you have launched the DoV club, who have been some of your favorite mentees?
Susan Jackson: Since I have launched the DoV Club, my favorite mentees have been middle school. Middle school is a developmental time where girls are becoming aware of the changes within their bodies, self-identity, their health and their social and emotional needs. My experience with middle school girls is their transparency, and the innocence of understanding their "why is this happening to me?" The process of supporting them in resolving their conflicts is rewarding, and inspires me to continue to be a part of the village in their life.
Angelica: What is one message that you like to instill in all of the young women and girls that you provide guidance to?
Susan Jackson: "A girl can change the world." DoV Club provides guidance to support girls to be successful career women, serving girls in underserved communities. I'm a firm believer of "each one, teach one" and "no one is left behind."
Angelica: Why should every person of accomplishment become a mentor?
Susan Jackson: Honestly every person of accomplishment is a role model, and has something to give back to others that are underserved. It is important to pay it forward, meaning we have the next generation of girls to women to guide, and we must stand to be a village to support their needs. The DoV Club is not only about me. I have DoV Club Board Members who support my vision, ideas, and assist monetarily to ensure that the girls are provided with resources for the DoV Club sessions.
Angelica: How does being a mentor bring fulfillment to your life?
Susan Jackson: Being a mentor brings fulfillment to my life because it's God's purpose for me to serve, and He gave me the vision to serve underserved girls and their families. When a student shows me their report card with A's and B's, they have resolved their conflicts, are walking across the graduation stage, or have parents sharing with me how the DoV Club is helping their daughter, brings fulfillment in my life.
Angelica: How can someone access more information about the DoV club?
Susan Jackson: If someone would like to donate to DoV Club please see the information below. You can contact me at DoV Club's email: dovclub@gmail.com or www.dovclub.org.You can leave me a message and I will contact you within 24-48 hours.
Angelica: Please provide your social media profile below
Susan Jackson: Instagram – @dov.club
Facebook – @DoVClubOrganization
Tik Tok – @DoVClub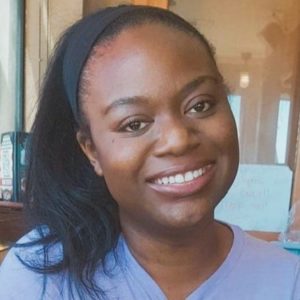 Angelica Cheyenne | Angelica Cheyenne is the Managing Editor of SwagHer Magazine, and is a contributing writer to BuzzFeed. Cheyenne also has over 6 years of experience in on-hair hosting, entertainment reporting, social media management and holds a B.A. in Communications and Journalism from California State University, Dominguez Hills.