Compiling this list was an amazing experience. There were so many amazing products to choose from. Listed below are 10 Skin-care products that every melanin queen should have. This list contains cleansers, moisturizers and even a foot balm. With each being black-owned, these products are a must to have on your shopping list and a part of your beauty regimen. Included are recommendations from colleagues and founders of these amazing products along with Black-owned online retailer— AMP Beauty LA—where you can find even more products to add to your beauty bag. 
Glow RX Skin by Dr. Lorraine Beraho – Gentle Foaming Cleanser | Moringa Face Oil
"My daily skincare routine starts with the Gentle Foaming Cleanser and ends with the GlowRx Moringa Face Oil. I have a hard time keeping up with a routine and it was easy to start and continue with these products. The Moringa Face Oil smells so amazing and feels so good on my skin"
– Chandra Gore
Glow RX Skin is available on their website www.glowrxskin.com and at Target
---
JENTL – Milk + Honey Body Butter
"I recommend our Milk + Honey Body Butter. This warm inviting blend of creamy milks, sweetened with a touch of honey, Milk + Honey whipped body butter transports you into the clouds. Soft to the touch, this butter softly transforms into an oil and marries itself to the skin." 
– Kiana Baldon, Founder + Creative Director of 'JENTL 
JENTL is available by visiting www.jentl.com
---
Flora & Noor – Vitamin C Resurfacing Toner
"I recommend the Vitamin C Resurfacing Toner due to being alcohol-free, non-comedogenic and a fragrance-free toner that hydrates, exfoliates and restores. With Vitamin C, Glycolic Acid, Hyaluronic Acid and organic aloe vera, it is known to fade dark spots, refine texture, tackle blackheads, reduce fine lines and wrinkles, result[ing] in plumper and dewier skin in very little time. I selfishly formulated it to address my own hyperpigmentation concerns, and it is now one of our bestsellers!"
– Jordan Karim, Founder of Flora & Noor
Shop Flora & Noor at www.floraandnoor.com
---
JACQ'S Skincare –  Hibiscus + Wild Carrot Beauty Bar
"Soap bars oftentimes get a bad wrap, but the truth is [that] natural soap bars are not the same as the traditional bar soap you grow up using. Natural soap bars contain skin-softening glycerin while traditional soap bars contain harsh chemical additives [that] harden the bar and pull moisture [from] your skin all day long, leaving skin feeling parched and lackluster. Natural soap bars contain glycerin molecules that don't rinse away as much after use and work throughout the day to attract water to your skin. This is why we call our bars…beauty bars because they help preserve one's natural beauty and not just cleanse or strip the skin's oil. Melanated skin requires moisture and hydration to prevent dryness and ashiness. JACQ'S Hibiscus and Wild Carrot Beauty bar is formulated to hydrate and heal rather than strip [the] skin of [its] natural oils." –Barbara Jacques, Founder and Creative Director of JACQ'S.
---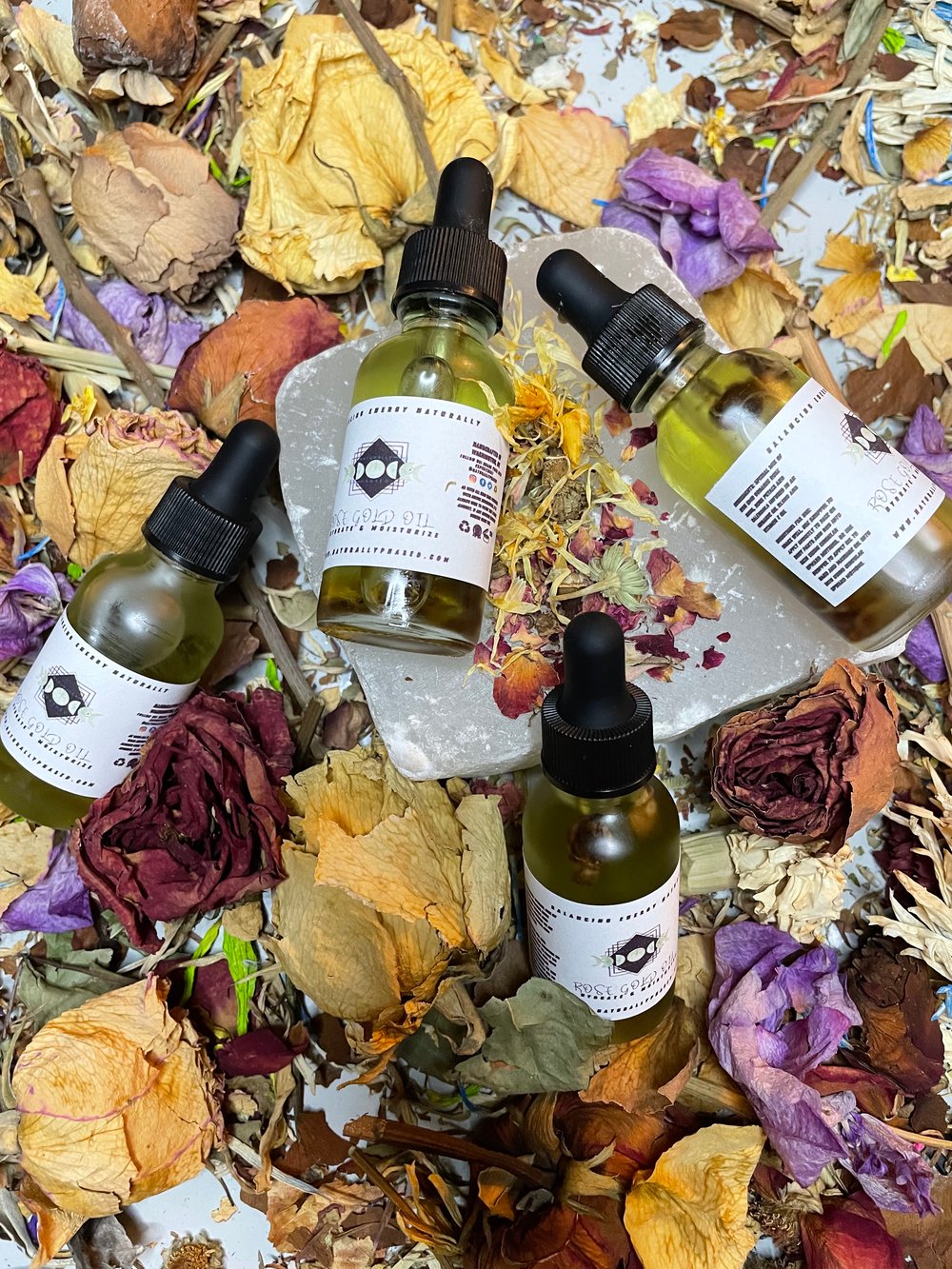 Naturally Phased – Rose Gold Oil
Rose Gold Oil is our special MOON CHARGED moisturizer. Infused in a natural triple mix oil with organic non-GMO rose petals, buds, calendula, and Vitamin E oil. From FACE to BODY to BATH. This will be your new go-to moisturizing oil! *Best used on CLEAN DAMP SKIN.*-per Naturally Phased 
Shop Naturally Phased by visiting www.naturallyphased.com
---
SCAR Skincare – Peppermint Sugar Scrub
"The skincare product I use is the Peppermint Sugar Scrub from SCAR Skincare. This product is simply amazing. When you use it on your skin it makes you feel so refreshed and smooth."
– Tijania Goodwin, Creative Director Divine Connections Agency
---
Buttah by Dorion Renaud – Buttah Vibe + Cleanse Kit
Like all great power couples, they work better together. Give your melanin-rich skin the best cleanse (ever) with our Buttah Vibe + Cleanse Kit. The BUTTAH VIBE BRUSH delivers high-vibe effective facial cleansing that gently exfoliates, and eliminates dullness and dead skin cells. The sonic pulsating Buttah Vibe Brush takes skincare to an innovative technical level for facial cleansing that reinvigorates the glow on your skin and touches your soul. The sonic pulsation delicately massages the skin, stimulating and energizing skin on a deeper level. Pores look less visible and skin's tone and texture are improved.  The BUTTAH VIBE BRUSH is water-resistant and designed to be used in the shower. -per Buttah Skin
Shop Buttah by Dorion Renaud by visiting www.buttahskin.com
---
Unsun Cosmetics – Unsun Mineral Tinted Sunscreen
Unsun Mineral Tinted Sunscreen, our best-seller is a 100% mineral sunscreen primer and color corrector in one! This sunscreen was formulated to cover a range of skin tones from olive to dark chocolate, without leaving behind a ghostly residue. Allow Unsun to minimize your pores and moisturize your skin. Feel free to wear it alone or as a primer under your makeup. The incredible blend of natural extracts (see ingredient lists for them all) adds to this amazingly clean, non-animal tested, and reef-safe formulation. Stay protected!
– per Unsun Cosmetics
Purchase yours today www.unsuncosmetics.com
---
Geechie Gurl – Kiss My Ash Moisturizer
Shea butter infused with lemongrass, jojoba, other essential oils, and the appreciation for your skin.
– Per Okra Soup Truth
Order yours today by visiting www.okrasouptruth.com
---
Zhi Bath and Body – Butter Magic Foot Balm
Butter Magic Foot Balm is specially blended for dry, itchy feet. Each 4 oz tub of magic is a perfect mix of all-organic butter and vitamins complemented by the soothing aromas of pure essential oils like chamomile, melaleuca, and eucalyptus. A little goes a long way to heal cracks, then soothe and moisturize any dryness or itchiness. You'll feel a difference almost immediately. – per Zhi Bath and Body 
Shop www.zhi-bath-and-body.myshopify.com
---
You can also shop online retailer AMP Beauty LA to find more products that you can add to your list and beauty bag. 
Owners Montré Moore, Phyllicia Phillips, and Angel Lenise own AMP Beauty LA an online retailer that makes it easy to shop and discover the best Black-owned and inclusive beauty products for all textures and all shades. Since launching their business, AMP Beauty LA has fully leaned into the TikTok platform, using it as a way to keep their finger on the pulse of culture and to be creative, experimental, and find their brand voice. From the brand: "TikTok is the place to let your hair down. It's the only platform that AMP Beauty LA has been able to engage and communicate as the people behind the brand, and not just the brand." 
Follow this amazing retailer on TikTok and shop their site at www.ampbeautyla.com