On-air media isn't for the faint of heart, camera shy or those that have severe stage fright. Being a public on-camera entertainment figure takes tenacity, charisma, and a certain level of fearlessness that are only present in people that enjoy performing. Television host slash media personality Zuri Hall is one of the select few that have an innate ability to draw people in an audience with their bubbly and engaging aura. Hailing from northwest Ohio, the modelesque mid-western on-air host has always had a penchant for entertaining a crowd. 
This inclination to be the one at the forefront of someone's eyesight was always a deep rooted passion for Hall, and overcoming her shyness was the first step to her achieving her destiny. 
"I didn't break out of my shell towards the end of college but I always had the natural ability to entertain," Hall told SwagHer in an email. "I acted and I sang, I wrote music and I was always a performer. The T.V. screen was my permission to be more outgoing in the way that I wasn't in my personal or private life. Naturally I have that ability to entertain and hone my skills on a stage. It has really served me well."
Realizing that her purpose was somewhere within the media landscape, Hall found her niche in entertainment upon winning a local television competition in Indianapolis, Indiana. 
"I discovered that I loved television hosting when I won a competition to become the face of a local T.V. station in Indianapolis," Hall said. "I hadn't even graduated yet from Ohio state. I stumbled into an online posting, it was like American Idol for T.V. hosting at the local level. I hopped in my red Ford car with no air conditioning and drove from Columbus, Ohio to Indianapolis and auditioned. There were multiple rounds, and a few hundred people showed up. It was elimination style. Long story short, the final five were on the local lifestyle show and they announced the winner on air. I got a one year paid part time contract with the station and I dove into it head first. It was a baptism by fire. I learned to shoot and edit and pitch ideas and develop stories and segments. I realized, 'wow, I really enjoyed this.' This was the biggest experience of my life so far, and I realized I could really make it a long term thing when the momentum built so quickly. First, I was just part-time, and then the Indiana Pacers NBA Team asked me to be one of their arena hosts. I started hosting and MC-ing a lot in Indianapolis. It felt very divine in nature to me.  If I took one step God took me three, so it felt very divine in nature."
The road to thriving as a media personality was not an overnight accomplishment for Hall, taking a great deal of perseverance and dedication for her to get to where she is currently.
"The road to media hosting has been slow and steady," Hall said. "So many times we look at people who seem like an overnight success, and that overnight success was more than ten, fifteen, twenty years in the making. My course has definitely been slow and steady, sometimes I get a little antsy. Especially when I was younger, but I have been very blessed to have a full time job in the industry since I started."
Hall's time in the industry hasn't always been smooth sailing despite her being able to constantly secure work on-screen. Nothing is ever seamless, even when you're living out your dream. Obstacles are always looming ahead, and only the most adaptable will be able to ride the wave of change. While navigating the shifts in her career Hall has faced a few pitfalls, maneuvering them with grace, faith and her unwavering support system. 
"Sometimes it would be discouraging taking these auditions and casting calls," Hall said. "You know how great of a job you can do at a certain show or with a certain opportunity and you just don't always get the job. Sometimes it is a "Hollywood Game." When I was younger I felt like the underdog and I always had to prove myself and what I could do. To overcome it, it was really knowing what I was capable of and surrounding myself with good people. Having a good support system makes it easier to take the leaps of faith that I've taken to get where I am."
The level of sticktoitiveness in Hall is undeniable and speaks to her love for her craft and the media arena.
"I am a communicator naturally," Hall said. "I majored in strategic communication at the University of Ohio. I love that the media can inform and entertain. It can help you check-out or zone-in. I love the evolution of new media. It can be scary though. So much change. But that is something to love about it too. The rules are being re-written."
Being a woman in entertainment is no easy feat, add Blackness on top of that and you got an additional hill to climb. Albeit Black people and people of color in general might have to put in extra effort to attain their status in the media, that isn't discouraging to hardworking Hall. In spite of the challenges, Hall has seen exciting rewards while pursuing media hosting. Having the opportunity to work for major networks like MTV and the E! network as well as with legends like the late Joan Rivers are just a few of them. 
"When I was still working at MTV at the time, to co-host Fashion Police with Joan Rivers," Hall starts, "it was iconic. It was just surreal, something I never even imagined I would do. I think also one of the first times I covered the Oscars and I was co-hosting the iconic E! Live From the Red Carpet with Ryan Seacrest, it was wild. I grew up watching him. These days, one of my favorite gigs has been Access Hollywood's teamwork with THE BLACK AND MISSING FOUNDATION. I am blessed to be the face of it, sitting down once a month to highlight the case of persons of color who are missing in America. They do such incredible work every single day to highlight missing persons cases. We share their stories and it is hard and heartbreaking. It is one of the greatest privileges and honors of my career."
The highlights of Hall's career is just the beginning for her, and much more is on the way. Like a self-care mental health podcast.
"I got my podcast! All about love relationships and self-care, plus mental health," Hall said. "It is living your best life minus the burnout. I was in my 20s, achieving all my goals and it is only worth it if you are happy while you achieve them. Everything I do with work and personally needs to align with who I am at my core. I am cooking up a couple of things but I don't want to give things away. In the meantime, I just bought a house. Lots of decorating. I am sharing a lot of that process on my IG and TikTok @ZuriHall on IG, @HeyZuriHall on TikTok."
Hall is a great representation for young Black women and girls, and as a public figure that is a Black woman Hall doesn't take her position of influence for granted. Any young Black girl who is aspiring to be the next Zuri Hall should take her advice to heart because it comes from a place of wisdom as a media personality.
"The sooner you can embrace being okay with not being loved, appreciated and celebrated by everyone the easier it will become to walk in your truth," Hall said. "Truth is what resonates with most people. People can tell when you are faking it. Stay true to yourself. Be consistent. A lot of time it's the one who endures who wins the race. Consistency and a unique Pov (point of view) and embracing your authentic self unapologetically are my biggest words of advice. Especially the Black girls. Don't be discouraged and refuse to be pigeon-holed. Trust that there is a box for you or you step outside of [that box] and create something very specific and unique and true to you. Your Pov as a Black woman in this country is so needed and so necessary."
Inspiring, intelligent and insightful are all things that Hall is. Her story consists of constant growth and transformation, something that many people with goals can relate too. The sky's the limit for Hall, and she is just getting started. You will be seeing more of Zuri Hall, especially since she will be hosting another season of American Ninja Warrior.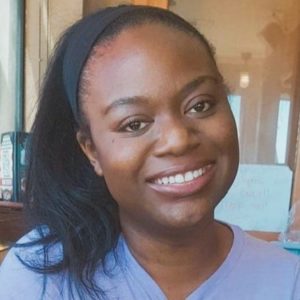 Angelica Cheyenne |Angelica Cheyenne is the Managing Editor of SwagHer Magazine, and is a contributing writer to BuzzFeed. Cheyenne also has over 6 years of experience in on-hair hosting, entertainment reporting, social media management and holds a B.A. in Communications and Journalism from California State University, Dominguez Hills and a M.A. in Mass Communication & Journalism from California State University, Northridge.