National Handbag Day is a day to celebrate the one piece of your ensemble that is a fashion statement and necessity all at the same time.
I have compiled a list of 5 brands that should be on your radar. Each one of these brands offers unique and different looks that can fit any style.
Founded by Tiffany Lewis of TJL Collection – Ready to Wear Fashions for Tall Women. She has various clutches to choose from and even  makeup and travel bags. Shop these bags here.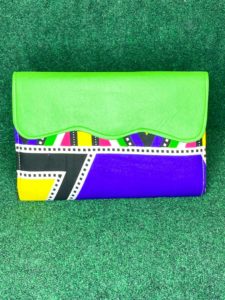 Quiana Dasha, founder, creator, and visionary behind Dasha Cosmetics and the House of Dasha. Shop her handbags by visiting here.
TELFAR is a unisex line Est in 2005 in NYC by Telfar Clemens and sold internationally. It's not for you — it's for everyone.
Check out their new 24hr Live-Linear TV network in collaboration with the Ummah Chroma Collective ('community of colour'). Basically, they have launched a TV Channel without any content — because they were tired of being content for other channels. When you watch TELFAR.TV you will see the channel take shape LIVE — and you can take part in what it becomes by sending us your videos. Visit www.telfar.tv/  to learn more.
The Dresscode Boutique is a major key to your fashion trends while also serving as a wealth of knowledge for business newcomers. As you hit the streets to sport your summer or fall trends please exercise safe practices with your hot off the press fashion pieces. Shop these handbags.
Her mission is to create luxury, comfortable clothing for Everyone. Clothing that speaks to you and that will "Leave them Staring". Drawing from  personal experience how hard it can be to find clothing that you LOVE and fits you perfectly. Lee K'more prides herself on working with all shapes and sizes.  Shop these handbags here.