Of all the months in the year, April is the month that shows the most love for literature. We have NaNoWriMo (National Novel Writing Month) in November and Black Poetry Day on the 17th of October. Still, in April, we have National Poetry Month, a poetic celebration for the outstanding poetess, Maya Angelou, on her birthday, which is on the April 4. Let's not forget the publishing of Toni Morrison's iconic book Tar Baby 41 years ago on the 6th and World Book Day on the 23rd. Last but surely not least, on the 10th of April, we recognize and encourage young writers worldwide.
National Encourage a Young Writer Day is for those young children who spend their days being storytellers. It's for the child with big dreams and a wild imagination who loves to keep their nose in a book. This day inspires young writers to put everything they have on paper or into a mic. For National Encourage a Young Writer Day, I would like to spotlight a young writer from Chicago named Princess Armoni. Albeit this story comes shortly after National Encourage A Young Writer day, Princess Armoni's story still must be told. This young poet is the winner of the 2020 & 2021 National Spoken Word Awards Best Youth Award while she was under 13, and the 2018 Poetic Princess Award. Ms. Armoni began writing poetry at 6 years old, a whole year before I did—how dope is that?
Obsession: You're a three-time award-winning poet at 12-years-old. I didn't get my first creative writing trophy until I was 12. How does it feel to possess such a meaningful gift?
Princess Armoni: I feel honored, talented, brave and determined. Not many kids my age can say they have that or have done that, so it makes me proud to call myself a three-time award winner in poetry youth.
Obsession: Of all of your poetic accomplishments, which one means the most to you and why?
Princess Armoni: The Poetic Princess Award; My first award from the Princess program. I didn't have to compete for this one; I got it because of my hard work and dedication to learning, writing, and performing with the Princess Program. This award motivated me to keep going.
Obsession: Is there a poet or a specific poem that inspired you to be the poet you are today? If so, tell us about them or it.
Princess Armoni: There are actually two people who inspired me. One is my dad, a poet, and the other is K. Love, the poet who ran the Princess Program. My dad encouraged me because I looked up to him and wanted to be talented and brilliant with my words like him. I've always been a little shy to speak in front of a crowd, but K. Love pushed me to face my fears and made me comfortable speaking in front of people, which both helped me be who I am today on the scene.
Obsession: Speaking of your father and being a performance poet, you're an awesome one, just like him. What's it like being the child of such an influential artist as Ollie' Hoodraised' Woods?
Princess Armoni: As I stated above, I love my dad and look up to him, so having him as a dad slash poet and learning while in his shadow makes my heart skip a beat. He doesn't make me feel like I have to be perfect, but he always pushes me to be my best. It's a great feeling being his daughter.
Obsession: That is a beautiful thing to say. I love it. Now, do you have a routine or ritual for when you write? For example, I write in complete silence with the lights turned down low.
Princess Armoni: No, I just write what comes to my mind at that time, then go back and make changes if needed to create my poems. I also ask for others' opinions. Once my mind starts flowing, out comes a poem.
Obsession: Those are usually the best poems too. I see that you're not only a poetess but also a small business owner. Sweet Kiss Cosmetics, I love the name. Can you share the inspiration behind the name and what goodies we can purchase from SKC?
Princess Armoni: My name was inspired by my mom and dad. We focused on coming up with a name that wasn't too grown, age-appropriate and sounded acceptable for a preteen. After brainstorming, we came up with Sweet Kiss Cosmetics, a lip gloss line. I have lip gloss flavors strawberry, pineapple, green tea, blueberry, cartoon candy, vanilla, and black cherry. You can purchase them from my Facebook page Princess Armoni.
Obsession: Nice! So tell me, what usually inspires you to write a poem? Is it music, conversations, situations, etc.?
Princess Armoni: Honestly, I never really write until I have a show or have an assignment from my poetry teachers because of all the other activities I'm in. There are times when life gets the best of me and inspires me to write and express myself.
Obsession: What advice would you give a writer your age struggling to find their poetic voice?
Princess Armoni: Never say what you can't do. Practice, practice, practice. Take classes because there are all kinds of poetry out there. Find your place and what makes you comfortable and run with it, then push yourself to do more. Never give up on yourself and never let anyone tell you "you can't." "I can't " isn't an option.
Obsession: That's fantastic advice. I'd like to thank you for allowing me to celebrate you for National Encourage a Young Writer Day. From one poetess to another, don't ever stop moving that pen. Poetry makes the world go round, and this is why saluting outstanding poets like yourself during National Poetry month is necessary.
Princess Armoni: Thank you.
Want to catch Princess Armoni's spoken-word performances or purchase from Sweet Kiss Cosmetics? 
Visit her at www.facebook.com/Princess-Armoni
How could you encourage a young writer for National Encourage a Young Writer Day?
Take a field trip to an age-appropriate poetry reading or competition.
Visit a library with a scheduled story time with a local author.
Gift them notebooks, journals, poetry word games and other literary material.
Offer resources such as freewriting activities or classes for their age.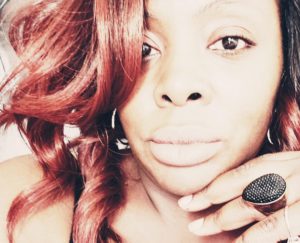 Obsession is a romance and erotica author, blogger, photographer and artist from Chicago, IL.
Social media handles:
Instagram: Obsession_theprettywriter
Facebook: Novelist Obsession
Twitter: @writerobsession
Tik Tok: @authorobsession
Snapchat: Obsession_theprettywriter
My favorite topics to write about are:
Relationships
Emerging Artists
Books (I'm a bookworm who loves reviewing books)