Today, U.S. Black Chambers, Inc. announced their 2023 Women of Power "Power 50" honorees ahead of Women's History Month next month.
The USBC Power 50 List is an annual honor bestowed upon fifty illustrious women who embody the spirit of the organization—unwavering dedication to making a difference in their communities and in the world at large.
This year's honorees represent a cross-section of women who have made significant contributions in their fields, coming from all over the country. These individuals have made an impact on our lives and helped to shape the world we live in today.
USBC 2023 Women of Power "Power 50" List
Samantha Abrams – CEO & Managing Director, Walkers Legacy Foundation
Karen Alston – Founder, The Spectrum Circle
LaKeitha Anderson – Policy Director, Brownstein Hyatt Farber Schreck
Honorable Roberta C. Archer- Michigan 36th District Court Judge
Michelle Bailey – Founder, HBCU Honors
Aminta H. Breaux – President, Bowie State University
Karmetria Dunham Burton – Senior Director of Global Supplier Diversity, McDonald's Corporate
Melissa Butler – Founder & CEO, The Lip Bar
Gwen Carr – Mother of Eric Garner, Social Justice Activist
Charita Carter – Executive Creative Producer, Walt Disney Company
Pamela L. Carter – Chair Of The Board, Enbridge
Michelle Carter – 2016 Olympic Gold Medalist
Gabby Cazeau – Principal, Harlem Capital Partners
Michele Cober – Director of Strategic Alliances, Verizon
Dr. Lisa A. Cooper – Director, Johns Hopkins Center for Health Equity & President's Council of Advisors on Science and Technology
Jasmine Crowe – CEO, Goodr
Morgan DeBaun – Founder & CEO, Blavity
Jocelyn Delk Adams – Founder, Grandbaby Cakes & Author
Diana Doukas – US Policy Programs Manager, Economic Impact, Meta
Thasunda Duckett – President & CEO, TIAA
Angela Ellis – Vice President, Head of Entertainment & Initiatives, NFL Media
Heather Foster – Senior Director, Head of Government Affairs, Lyft
Monique Frazier – Partner, Capital Counsel
Belynda Gardner – Senior Director of Diversity, Equity & Inclusion, NFL
Heather Holmes-Dillard – Vice President Marketing, Downtown Cleveland Alliance
Mary Hopkins-Navies – CEO, Hopkins-Navies Management (McDonald's Franchisee)
Wanda L. James – CEO, Simply Pure & The First Black Cannabis Licensee
Malika Jones – Founder, Brown Girl Jane
Nia Jones – Founder, Brown Girl Jane
Michelle Jordan – Chief Diversity Officer, AT&T
Keisha Lance-Bottoms – Senior Advisor to the President for Public Engagement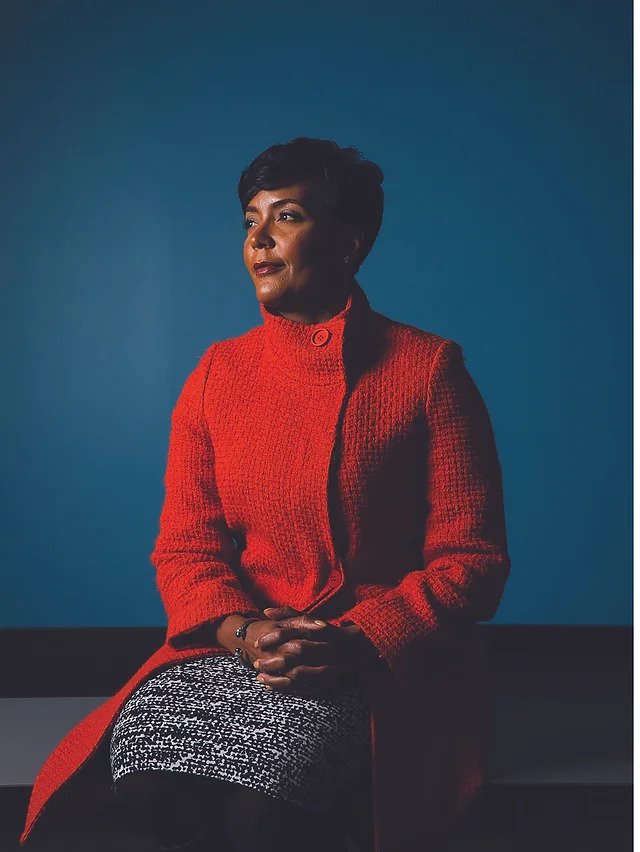 Katreice Lindley-Banks – Vice President, Federal Relations, AT&T
Marie Long – Asst Vice President, Federal Relations, AT&T
Honorable Loretta Lynch – 83rd Attorney General of the United States
Ganesha Martin – Vice President of Public Policy and Community Affairs, Mark43
LaLanya Masters-Abner – Children's Author & Actress
Belinda Matingou – Business Development Manager, Amazon Web Services
Tekedra Mawakana – Co-CEO, Waymo | Intuit Board of Directors
Senator Jennifer McClellan – Virginia's 4th Congressional District
Deryl McKissack – President and CEO, McKissack & McKissack
Tiesha Moore – CEO, G3 Electrical
Shalamar Muhammad – Real Estate Agent, TTR Sotheby's International Realty
Lisa Mushaw – Principal, Dewey Square Group
Simone Ray – Director of Supplier Diversity, Hilton
Ebonie Riley – Senior Vice President, National Action Network
Courtney Robinson – Global Head of Financial Inclusion & Policy Development, Square, Inc.
Cara Robinson Sabin – CEO, Sundial Brands / President of Beauty & Wellbeing Unilever North America, Unilever
Mary Elizabeth Taylor – Vice President, Head of External Affairs, Robinhood
Kimberly Tignor – Executive Director, Institute for Intellectual Property & Social Justice
Rose Washington – CEO, TEDC Creative Capital
These women are leaders in the business, education, arts, sports, entertainment, philanthropy, technology, and social justice sectors.
USBC's Power 50 List represents an important opportunity for USBC's Women of Power to receive national recognition for their hard work and efforts toward progress during the annual Women of Power luncheon taking place in Washington, D.C., on Thursday, March 23rd, at the AT&T Forum for Technology.
USBC recognizes these women and all women who are telling our stories, building our communities, advocating our causes, inspiring change, making #HERstory, and amplifying the voices of all women every day.
For more information about USBC's Women of Power luncheon, visit www.usbcwomenofpower.com.