Motherhood is a definitive factor that denotes womanhood and femininity, hence why there is such an heavy emphasis placed on it. Moreso than men, women are expected to have children, and this intense pressure on the female gender to birth children can ignite anxiety, especially among women that struggle with infertility. According to the Center for Disease Control and Prevention, 19% of women aged between 15-49 with no prior births are unable to get pregnant after one year, and 26% of women are either unable to carry a pregnancy to full term or struggle to get pregnant period.
Finding herself as a member of the 26%, Akitra Johnson Olatuyi has had a longstanding battle with infertility. Olatuyi's plight is all to similar to other women that are striving to become a mother, in spite of being physically able too, and because of her journey she has been inspired to be light to women dealing with the same issue. Infertility. In Akitra Johnson Olatuyi's exclusive interview with SwagHer Magazine she divulges about her philanthropy, her infertility campaign Sarah's Promise 4 and how Black women that are having pregnancy issues can mentally cope.
How would you describe your swagher? 
My swagher comes with self-confidence and determination. My swagher is not defined by age but how I feel and of course how I see myself. My swagher has drive and purpose with a whole lot of vision, defined goals and courage.
What does Akitra represent, and how is that reflected in what you do? 
Akitra represents and embodies a spirit of love and joy with the aptitude to conquer her fears. My ability to always be grateful for that in which life gives me allows me to continuously exhibit how to create the best outcomes in any situation. 
What connects you to the fight against infertility, and why are you so invested in bringing awareness to women's infertility issues?  
I am personally connected to the fight against infertility and the need for a greater awareness in particular to Black maternal health and infertility because I like many women of color have suffered through years of pregnancy loss (ectopic, still birth and miscarriages) followed by periods of infertility. It is important for people of color to begin to acknowledge that not every woman's maternal history is the same.
How do infertility issues interconnect with mental health issues amongst Black women? 
Infertility for me has been connected with pregnancy loss which has been a very heavy burden that can and has affected my self-perception. Infertility can give one the feeling of inability, abnormality and even the lack of femininity. Personally, I struggled with the aspect of feeling as if I had failed after each pregnancy loss. During the periods of my infertility, I dreaded the on-start of my menstrual cycle because it meant another failed attempt at motherhood. I would often wonder if something was really wrong with me…. Or perhaps [wondered] what I had done in this life or a former life to have to endure such pain when successful pregnancies seemed to come so easy for so many others. 
Infertility and pregnancy loss doesn't just affect one's mental health but it is also an emotional health concern. The feelings of inadequacy and the waiting, not knowing what your body will do is taunting and can lead to depression, persistent fear, stress and anxiety. For many Black women, our mental health connected to infertility brings us to a place of silent depression partially due to the stigma that surrounds the Black community regarding women and the expectations of conception and childbirth.  
What is the non-profit organization Hands of Comfort, Inc.? 
Hands of Comfort is a youth mentoring program that focuses on expanding education options for young women in at-risk communities.
Why did you choose to use your non-profit organization Hands of Comfort, Inc. to launch the surrogacy campaign Sarah's Promise 4? 
Well… I believe that my connection with Hands of Comfort allows for greater opportunities to create a platform that expresses who I am and my experiences with pregnancy loss and infertility. The connectedness of the non-profit to this cause also allows for greater personal awareness campaigns to reach others.
What is Sarah's Promise 4, and how will it help women that struggle with infertility? 
Sarah's Promise 4 is my personal independent fundraising and awareness campaign. The goal of Sarah's Promise is to raise funds to assist with the financials for my surrogacy as well as assist other women in the area of education regarding infertility treatment and options as well as their financial needs related to the ability to the options that will best meet their situations. Essentially, I would like to continue the fundraising aspect of the campaign initiative to provide financial support in the form of grants to other women struggling with infertility and pregnancy loss.   
How did you come up with the concept for Sarah's Promise 4? 
Sarah's Promise 4 is based upon the Biblical reference of the promise that God gave Sarah regarding motherhood even in her old age. God promised Sarah that she would conceive and would bear a son whom she named Isaac. Therefore, it is my belief that the same promise that God gave to Sarah also applies to me. The number 4 represents my number of confirmed pregnancies.
What does Sarah's Promise 4 personally mean to you? 
Sarah's Promise 4 is me. I am in my early 40's and I have been waiting for God to bless me with a successful pregnancy for quite some time. It is almost as if I am a woman in waiting. I, like Sarah, have doubted that this dream of motherhood would not happen for me…. Sarah's Promise 4 allows me to share my story with anyone who takes the time to listen. It gives me the option to heal through transparency. Sarah's Promise 4 also gives me the freedom to explore other [unconventional] options to motherhood. I have the freedom to see my dream of motherhood become a reality through the advancement of medical science and technology combined with natural human nature and the empathy that we as creatives can extend to one another. 
Where do you see Sarah's Promise 4 expanding into in the future? 
I see Sarah's Promise 4 continuing to advocate, bring forth awareness and provide financial support to women who bear similar experiences with infertility and pregnancy loss. I can also envision that Sarah's Promise 4 will invoke conversations about maternal health as well as increase the number of Black women gestational carriers (surrogates) as well as egg donors. 
Why do women who are dealing with infertility need more safe spaces? 
Well… I mean everyone needs a place where they feel safe and accepted. Infertility, especially in the Black community, is not uncommon, it is just not a subject matter that is often spoken about freely. It is a very lonely road to travel, this infertility and pregnancy loss journey. We don't need just a place to feel safe, we need resources both educational and financial. It has not been satisfactory for me to just gain knowledge about all of the various options to healthcare that can lead to motherhood. 
The reassuring and gratifying aspect is always about affordability. For many women like myself, we can continue to try traditionally to conceive and have healthy and successful pregnancies but there is no guarantee that will happen. It is more likely that a fertility specialist including the options for surrogacy will lend better, faster and even safer results without the stress of wondering about your body and its capabilities. A safe place for women experiencing infertility and pregnancy loss will provide financial resources to help solidify her dreams as it pertains to motherhood.
How can women cope with infertility issues? 
Coping with infertility is an individual journey. The aspect of coping is never the same, it is an individual process because not all women have the same experience with loss even if they share the same diagnosis or cause for a pregnancy loss. I would definitely recommend a good therapist to begin with, and of course a supportive network of family members and friends. I often refer to prayer and to continuously seek positive affirmations that motivate and encourage. In addition, coping for me also looks like finding ways to push through the pain and frustration to achieve my goal of motherhood. At some point you have to learn to go after what you want by any means, and never give up on you. I have never given up on me, and I continue on each and every day knowing that I too will become a mother.  
How can women improve their mental health when going through infertility issues?
Positivity, faith, education and a consistent drive. The Bible says that "faith without works is dead." You have to be willing to do something to change your own narrative. You can seek therapy, support groups and the like but if you are not willing to put in the work for your own mental and emotional health you will continue to suffer. For me, this initiative has been a form of healing. It is healing because I am no longer just waiting, I am actively pursuing the options that are available to me. 
What is your message to women that struggle with infertility? 
My message to any woman experiencing infertility and pregnancy loss is to always "bet on you"! This condition does not define who you are if you don't allow it. You have to find your strength and rest right there! You have to develop a sense of pride that drives you to discover the answers that you need to bring a good resolution to your questions. You have to be willing to endure the fight and go after what you want no matter what the odds are. 
I give the women experiencing infertility and pregnancy loss the blessing of self-acceptance, self-love and the knowledge to know that there is truly purpose behind your pain. I give you permission to take this obstacle that we didn't ask for and fight against its plot! I give you permission to conquer your fears and if you have considered surrogacy, IVF, IUI or adoption GO FOR IT!!! Don't let anyone stop you. This is a personal journey that you may have to travel alone. In some cases, you may have a spouse or partner that lacks understanding, and that's OK mother-to-be, travel your journey and create your own narrative. 
How can people connect with you?
I can be contacted via email at: akitragardner@gmail.com or by phone at 225-280-2156.  
Please list your social media platforms below 
IG: iam_akitraj (personal page
Instagram: @sarahspromise_04  
Facebook: Sarah's Promise #4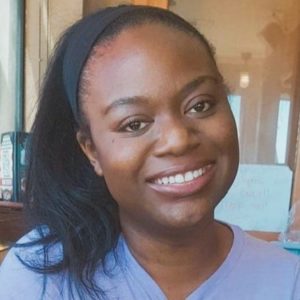 Angelica Cheyenne | Angelica Cheyenne is the Managing Editor of SwagHer Magazine, and is a contributing writer to BuzzFeed. Cheyenne also has over 6 years of experience in on-hair hosting, entertainment reporting, social media management and holds a B.A. in Communications and Journalism from California State University, Dominguez Hills.