Black Women Made Whole is a wellness experience produced by SwagHer Magazine and sponsored by I'Mat Dream Brand. The three-hour event filled with dynamic speakers and activities is certain to entertain and center attendees and participants and leave them feeling refreshed and renewed. 
Black women, are you ready to be made whole? 
We're talking about all the things to help replenish you! We are excited to share who you can expect to see below. Meet our 2023 Black Women Made Whole speakers.
Lady Tiffany Nicole: (Media Personality & Radio CEO)
Lady Tiffany Nicole is a media magnet called to help entrepreneurs cultivate their gifts and penetrate their market through the ministry of  TV and radio.
A woman sold out for God, she has devoted her life to uplift, encourage and support all who cross her path. Lady Tiffany Nicole, a licensed minister, has been preaching the gospel since 2011. Through her gift of personality, she has become the premier kingdom personality to help promote entrepreneurs, small businesses, authors, etc., through her international media brand, The Virtuous Hour Media and Marketing LLC.
In  2021 God expanded her territory as CEO of Power Influence Radio, the first African-American, woman-owned internet radio station in three major markets Dallas, Houston, and Atlanta. National recording artists and some of the community's most prominent movers and shakers have graced her radio and TV show, The Virtuous Hour. Her work does not go unnoticed, as she received the Top Influencer Award and the Radio Personality of the Year Award that same year. In 2022, the TVH was syndicated to HustleMama Radio. 
One to stay ready for whatever God calls upon her, Lady Tiffany Nicole is also a 7x Amazon Best-Selling Author and was honored as one of the Top 50 Empowered Women Empowering Women. The Atlanta resident was selected to be a brand ambassador for Kearn Cherry's Level Up Summit in 2022 and has been on a roll hosting red-carpet events and private screenings. 
Lady Tiffany Nicole will speak about faith while also emceeing the event. 
Ebony Lambert ( Yoga Instructor)
Ebony Lambert is a free spirit woman of many gifts. Ebony has taken her yoga journey and turned it into a way of life, which created the words. "It's not just yoga, it's your life". Ebony offers Wellness Life Coaching, Spiritual Guidance, Private Sessions, Private Group Classes, Meditation, Reiki, and Bodywork Therapy. Ebony has a unique way of guiding you beyond your belief.
Ebony will lead a yoga exercise.
Dominique C. Dillard (Educator)
Dominique C. Dillard is a doctoral student at Louisiana State University in the department of Sociology. Her research centers on positive sexuality, sexual trauma, anti-Blackness, and the social history of Black Americans. Dominique is the founder of Sistah Girl, an organization established to support connections, healing, and growth among Black women. Dominique is a passionate, innovative educator committed to improving the quality of Black humanity, especially Black youth. She is an active community member, currently serving as a board member for the Louisiana Foundation Against Sexual Assault. Dominique enjoys trying new foods, traveling, and playing the Sims in her free time. 
Dominique will briefly share about Black women's history. 
Tami Curry (Reiki Practioner)
Tami Curry is an inner healing advocate and beauty entrepreneur. She is passionate about helping people to find their inner beauty, strength, and confidence. Tami believes that when we make the effort to heal ourselves from the inside out, we can create a life of abundance and joy. Her mission is to inspire others to take control of their lives and to live authentically and courageously. The I'Mat Dream Brand curator is a big believer in the power of beauty and loves to transform lives. She is excited to share her journey with you. 
Tami will lead Unlocking Your Limitless Potential: A Spiritual Workshop for Empowered Living.
Dani Parks (Life Coach & Mental Health Advocate)
Dani is one of today's favorite mental health and mindfulness advocates. Her charismatic confidence, passion, and optimism, fueled by a personal experience with mental health crises, made her a prime champion to advocate for those suffering in silence from mental health illnesses. She shares her story openly about her struggles with depression, suicide
attempts, and the mental suffering she endured for over ten years due to the incorrect treatment of her mental health illness, Bipolar I Disorder. Dani can be seen on the campuses such as Wittenberg University, speaking at various Fortune 500 companies, or being a guest on podcasts or radio shows such as the 1380 WAOK, The Rashad Richey Morning Show, and The Mental Health Space. Her mental health wellness journey and transformation hinge on self-care and mindfulness, which inspires, influences, and impacts those who hear her speak.
Dani will lead a workshop about mental health entitled, Can I Be Me?: Mindfulness & Self-care Mini Workshop.
Lid'ya C. Rivera (Author & Confidence Coach)
Lid'ya C. Rivera is a proud vitiligo advocate, retired, decorated navy sailor, award-winning filmmaker, and confidence coach. She was diagnosed as an infant with vitiligo, causing her to face childhood bullying and low self-esteem, which later inspired her passion for storytelling and raising awareness about the skin disorder. Lid'ya is a native of Georgia and currently resides in Florida with her three daughters and son. She is a graduate of Excelsior University, where she earned her Bachelor of Science in Psychology.
Lid'ya will speak on self-love.
Dr. LaNysha Adams, Ph.D. (Award-Winning Author & Educational Consultant)
LaNysha Adams, Ph.D., is the award-winning author of Me Power, a motivational/self-help book that encourages us to tap into our limitless flow of possibility while connecting with others.
The Ivy-League-educated linguist and founder of award-winning education consultancy Edlinguist Solutions challenges others to not only answer this question but to put the answer(s) into action.
Inspired by a microaggression incident with one of her former professors, Dr. Adams would later go on to find her "me power" while overcoming.  But what's more interesting is the fact that the author survived cardiac arrest and a coma right before completing the book this year. These experiences caused her to empower herself once again and get the book to the printers. 
Dr. Adams has been featured on CNN, Forbes, Readers Digest, and others, while Me Power was recently named Best Indie Book Award (BIBA) Motivational Winner.
Dr. Adams will speak on tapping into 'me power.' 
Cynthia Williams (Grief Recovery Specialist)
Ms. Cynthia Williams is the Founder of Love From Afar-The Christopher Allen Williams Foundation and P.A.D.D. (Parents Against Distracted Driving). Cynthia is a Certified Teen Life Coach and Mentor, a PRIDE (Parents Reducing Injury and Driver Error) instructor, a Motivational Speaker, a Grief Recovery Specialist, and a certified Mediator and Generational Conflict Resolution Specialist-holding workshops around the country to assist families with breaking generational barriers for their family members and removing the pain from the past.
Cynthia is a testament to overcoming; of taking personal tragedy with the loss of her oldest son Christopher, to a fatal car crash in 2006 and coming out triumphant by using that experience and her story to help others. As a single mother of four, Cynthia is determined to both exercise and spread a message built on love, moral and ethical values, and unity throughout communities to ensure a positive outlook for the lives she touches.
The Atlanta native has received numerous awards and commendations for her service. Last year, she received the President's Lifetime Achievement Award and was inducted into the Apex Museum of Women in History. 
Cynthia will speak on overcoming grief.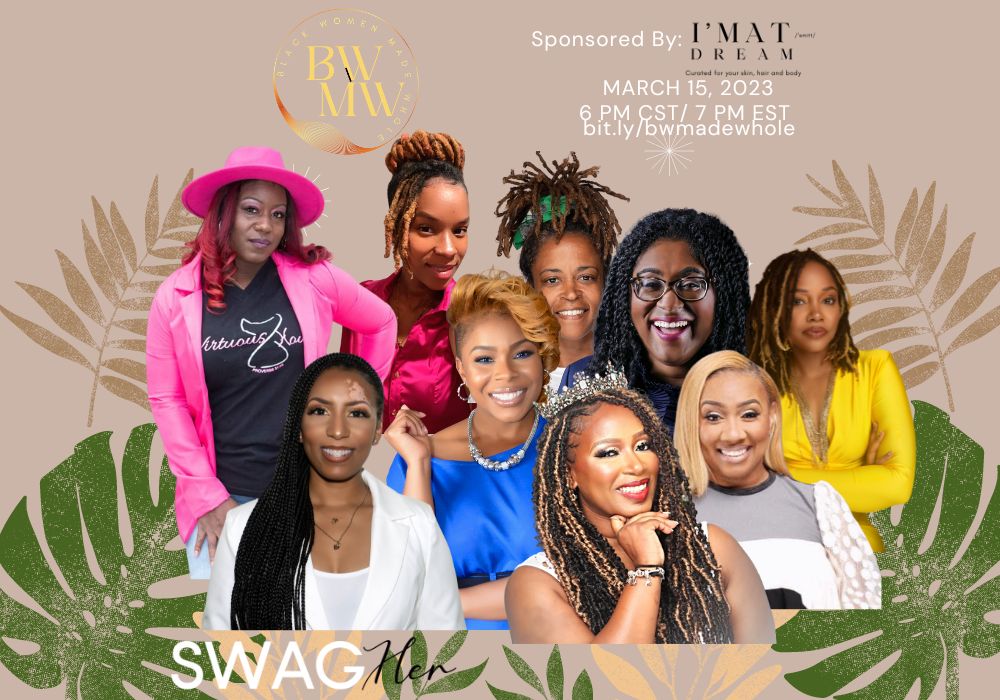 Taking place March 15, 2023, Black Women Made Whole is the wellness experience we all need as we prepare for Quarter 2 of the year. This event is sponsored by I'Mat Dream Brand, a natural beauty brand dedicated to helping people feel more confident and beautiful from the inside out. Their products are specifically designed to nourish and care for hair, skin, and body. They believe that true beauty comes from within, and their products are formulated with natural ingredients that nourish and nourish your body as well as help you look and feel your best. I'Mat Dream Brand's mission is to provide its customers with natural, high-quality products that help promote their inner beauty and confidence. The brand strives to make sure that its products are safe and effective, so you can look and feel your best with confidence.
Pause, relax, release, and prepare for spring with us! Get your FREE tickets here.
The last day to purchase sponsorships and vendor packages is March 7, 2023. Visit our shop to learn more about these opportunities.