The eyewear industry is made up of prescription glasses, sunglasses, contact lenses and other eyewear products, and in 2020 it was valued around 140 billion dollars in the United States alone. By 2027, the eyewear industry is projected to reach 197 billion dollars. Even with such a huge number, there are a very small number of minority eyewear designers and an even smaller number of designers who are Black.
This is where we meet Allena Grant, and honor for Healthy Vision Month. Allena is the creator of Moods Eyewear, a luxury eyewear company that provides handmade Italian eyewear that is as eco-friendly as it is fashionable, or as Grant says, "where funky meets classy." Moods Eyewear has been in operation for almost 2 years and prides itself on being able to provide women with frames to match every mood.Â
Originally, as a program manager for a museum in Houston, TX, Grant found out she would be laid off due to the pandemic, so she began looking for a way to sustain herself. Grant didn't want to start a business just to say she is an entrepreneur, she wanted to provide a product that she was passionate about and could relate to. This is how Moods Eyewear was born.
Grant states she has been "wearing glasses since the 5th grade," and because of her long standing relationship with eyewear, Grant has a passion for luxury frames. Grant recounts how she has had frames from Dolce & Gabbana, Gucci and many others. Those luxury frames also came with a hefty price tag. To find the perfect manufacturer, Grant spent hours researching online until she found the perfect company in Italy.Â
Not only are the frames made in Italy, they are handmade from Mazzuchelli acetate and stainless steel. Mazzucchelli is a material derived from cotton and turned into cellulose acetate. Color is then applied with organic powders going through a repetitive weeks-long process in order to achieve the desired color. Grant prides her manufacturer on providing great quality, durable and unique frames. Moods Eyewear currently carries 1 frame in 4 different colors. Customers can purchase the frame for $199 and can take them to their local optometrist to have their prescription put in the lenses.
The majority of sales are made from online sales, but Moods Eyewear can also be found in Smith's Opticians, a local eye doctor in Houston that carries specialty and one-of-a-kind glasses. For right now, the target audience for Moods Eyewear is women, but Grant has plans to expand to include unisex and/or men frames by the end of 2022. Long term, Grant wants to get into glasses that include technology.Â
But for now, her main goal is focusing all efforts on pushing her brand and expanding visibility. Grant states the hardest part for her so far is marketing. But she is determined to keep pushing. She has even partnered with a PR marketing firm to help with her visibility. MoodsÂ
Eyewear can be found online at www.moodseyewear.com and also on social media:
Instagram: @MoodsEyewear_
TikTok: @MoodsEyewear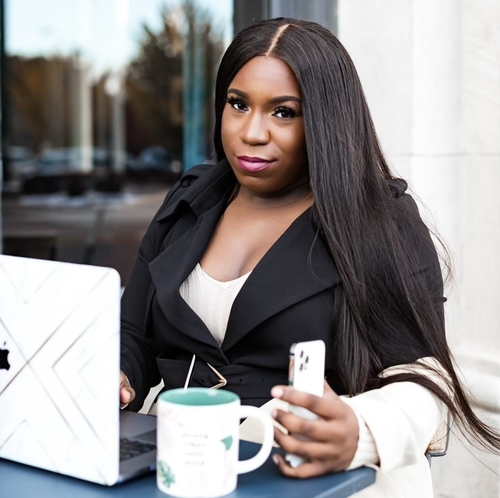 Jasmine Spencer | Jasmine is a native of Chicago and a graduate of Loyola University Chicago with a B.A. in Political Science. Jasmine started writing in 2018 as just a hobby. Since then it has grown into a passion. Jasmine considers herself to be a lifestyle and fashion blogger, a social media manager, and social media strategist. She can be found on Instagram at @jas_is_peculiaroyalty