The word luxury has often been associated with that which is expensive, designer, and lavishly exclusive. Many people felt luxury was only reserved for those that are rich and famous. This explains the emergence of tv shows like Lifestyles of the Rich and Famous, MTV Cribs, and My Super Sweet 16. These shows gave the regular person a chance to see firsthand how celebrities lived, what the necessities of their lives were comprised of. They gave us a glimpse into the lap of luxury that everyone so desperately desires. I loved watching MTV Cribs and I built my dream life of luxury based on various pieces of different celebrity houses.
But in my 30's I am learning luxury is more than the items and labels. Luxury is a mindset. It has no limit and extends beyond price tags. Luxury is about choosing to do daily what makes our soul shine and proud. I now define luxury as the enjoyment of what I feel is necessary to make me the best version of myself, from standing nail and hair appointments to indulging in various body butters and oils to getting dressed. I don't mean throwing on sweats and a t-shirt just to sit around the house. Nope, I put on a whole outfit, perfume, and some sort of makeup, not for any other reason than because I want to. I don't have to wait for a special event or outing. Me being awake is enough of an occasion to be celebrated however I see fit. Luxury is also me doing what makes me happy! Because YOLO.
It is easy to get carried away by various titles and positions in life and forget the little things that you as an individual enjoy. Luxury is taking time to do what makes you happy to keep you and your mind at peace. Designer bags, clothes, and shoes will be there. But once you buy them, then what? The thrill starts to lie more in the chase to obtain the items instead of the thrill of feeling satisfied.
I still have some designer bags and shoes on my list. But I have grown to understand luxury in my life is made up of so much more. To me, that is where the exclusivity of luxury lies. In knowing and understanding how to live out luxury daily. When you live in luxury daily, there is a vibe that you feel that makes every day feel special, even the days designated for laundry and cleaning the bathroom.
My challenge to you is to figure out what luxury looks like in your life and live in that truth daily. Put on perfume/cologne to go to bed. Upgrade your underwear drawer with the good stuff. Take midday showers or hour-long baths. Do it and watch how your whole vibe changes.
I am providing a list of some of the brands and ways I incorporate luxury into my daily life. These are items I use and wear that make me feel good. That is what luxury is supposed to do. It is supposed to bring out the joy that is on the inside of you and assist in bringing that glow out for the world to see. You can wear all the labels but if your attitude does not match then all you did was waste your money by collecting things just to say you have them. Rather than doing what makes your soul shine. All of the brands listed are owned by Black women. I live by the mantra: "If a black woman made it, I want it."
Body Butter (www.butterbarsandthings.com) – I love a good body butter and right now Butter, Bars and Things is my current favorite. Not only are the scents amazing but the product legit feels like butter. I wear it alone or mix it with lotion but it leaves my skin feeling amazing. The scents aren't overbearing so I don't have to worry about it clashing with my perfume. I think my favorite thing about this product is after putting the body butter on, I am not left with that greasy, sticky residue other products leave.
Facial Serums (www.taylormadefaces.com) – Great skincare is the key to being your most luxurious self. To help keep my skincare on point, I invest in various products. One of my favorites is this facial serum by TaylorMadeFaces called Glow Girl. Glow Girl is a skin serum created to promote and enhance the natural glow of your skin by evening skin tone. This serum will help reduce inflammation, brighten skin tone, reduce and improve acne scars. Made with Sweet Almond oil, Rose oil, Vitamin E, Lavender essential oil, and Marigold.
Savage X Fenty (savagex.com) – Rihanna did her thing when she created this line. I made my first Savage purchase last summer and I was instantly hooked. Probably over half of my underwear drawer is Savage X. The undies fit perfectly and cause no irritation. The materials are very breathable. The bras are the best I have ever worn. And absolutely nothing compares to the strapless bra. Once you put that on, it will not move until you take it off. Another thing I love about Savage is the brand is size-inclusive. All of the garments are made with every body size and body type in mind. I am a Savage X stan and I will not buy anything else. Do yourself a favor and give your underwear drawer an upgrade.
Fancy Homebody (www.fancyhomebody.com) – This is a lifestyle brand built by one of my favorite Instagram pages, Vanessa the ultimate Fancy Homebody. Vanessa is a mother of two who celebrates embracing one's authentic self by living your best homebody life. From t-shirts to sweatshirts to lounge sets, Fancy Homeboy has you covered. My favorite pieces are the Popular Introvert sweatshirt and the Signature Luxe Essential Jersey Hooded Set.
Glamaholic Lifestyle (www.glamaholidlifestyle.com) – Mia Ray and her Glamholic totes have been around for 10 years. I was introduced to the brand a few years ago and was instantly hooked. Mia comes off as your round-the-way friend that designs her products to be not just fashionable but functional. She has expanded to include duffel bags, fanny packs, bucket bags, wallets, travel sets and so much more. I am patiently waiting for the suitcase to be released.
Salt.XO (www. saltxo.com)- Based in Florida, Salt. XO is a natural soap brand that focuses on skin and yoni health and healing. The products range from bars to oils to gels that will elevate your shower and bath experience and will leave you feeling fresh and clean.
Luxury to me is not about buying expensive things; it's about living in a way where you appreciate things.- Oscar de la Renta
-Jasmine Spencer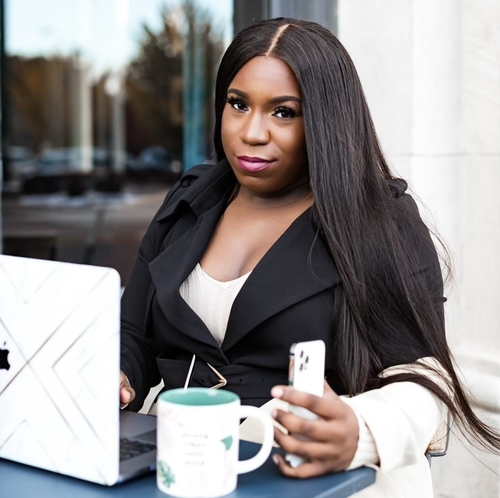 Jasmine is a native of Chicago and a graduate of Loyola University Chicago with a B.A. in Political Science. Jasmine started writing in 2018 as just a hobby. Since then it has grown into a passion. Jasmine considers herself to be a lifestyle and fashion blogger, a social medial manager, and social media strategist. She can be found on Instagram at @jas_is_peculiaroyalt