Meet Tiffany King, the creator of RGN Sport. Tiffany describes herself and her vision for RGN as follows: "As a black woman and former soccer player, thick thighs are all I know. I love working out, but I hated having to constantly pull down and unroll my shorts mid-workout. That's what spurred the idea for a new type of short: one that was made to stay put and had pockets. I shared my idea with my fiancé, on a trip to South Africa, realizing that I had never seen athletic wear that showcased African print."
Shortly after sharing this idea with her then fiancé, now husband, he pushed her one step closer to making her dream a reality by gifting her a sewing machine. That was the catalyst to start a fire of designing within Tiffany. With no professional training, Tiffany began teaching herself how to sew. She then launched a swimwear line, Regalia Swim, in 2018. With a successful launch of Regalia Swim, Tiffany placed her vision back to her original goal and RGN Sport was born.
By being self taught, Tiffany learned everything she could about designing, manufacturing and distribution. And with the success of one brand under her belt, she was prepared to take on the challenges of RGN Sport. In transitioning from swimwear to sportswear, Tiffany is hands on in every part of the process. This is vital to the brand because it allows for the creation of something she has never seen before. All of the prints are unique and are in-house designs. When designing, Tiffany pulls inspiration from realistic things people want in one design. For example, shorts with functional pockets and spandex bands that keep the short from rolling up the leg and rolling down the mid-section due to activity.
Upon launch, RGN Sport was just shorts and sports bras. The line expanded in 2021 to include leggings. Tiffany has future plans to include tank tops and full workout sets. Eventually, the goal is to have 5-7 core women items and then introduce a men's line. Even though RGN has been successful, Tiffany does not run RGN full time, nor does she run it alone. Her and her husband both manage and maintain RGN Sport while working full time jobs. This is not an easy task, seeing as the manufacturer RGN uses is in China.
This makes for a lot of late night and early mornings. Tiffany expresses that working with a manufacturer has been a learning process in itself, and her advice for anyone looking to use a manufacturer, especially one overseas, is to over-communicate. You can never be too clear, and miscommunications will happen because of the language barrier, but over-communication will reduce the amount of miscommunication and frustrations. Another lesson Tiffany has learned is that email is not always best, if anything, email is a last resort. Tiffany makes sure to make verbal contact with her manufacturer multiple times a day. This is also to reduce the amount of miscommunication and helps to build a relationship.
This is just the beginning for Tiffany, and she has not plans of stopping anytime soon. Her brands can be found at: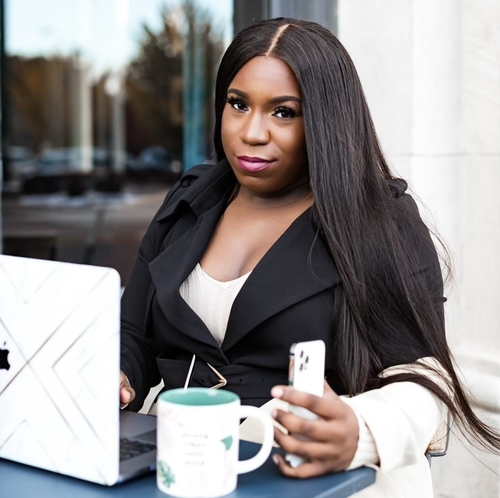 Jasmine Spencer | Jasmine is a native of Chicago and a graduate of Loyola University Chicago with a B.A. in Political Science. Jasmine started writing in 2018 as just a hobby. Since then it has grown into a passion. Jasmine considers herself to be a lifestyle and fashion blogger, a social media manager, and social media strategist. She can be found on Instagram at @jas_is_peculiaroyalty.