Menopause isn't the most fun part of womanhood, but it's an inevitability for women once they reach a certain age. Dreaded by many of XX chromosomal humans due to the uncomfortable symptoms that are intertwined with the climacteric period, it's hard for some members of the lady gender to escape menopausal madness. Compared to white women, Black and Hispanic women have worse menopausal symptoms, with Black women having the longest duration of hot flashes and being most bothered by them, while both Black and Hispanic women experience poorer quality sleep, according to the Washington Post.
To combat these differences that are evident within the white and POC menopausal experience, two best friends decided to launch Akanni Beauty. Akanni Beauty, founded by Valencia G. Wallace and Shannon Ward, was designed to sexify the menopausal moment in a woman's life. The brand was created to provide melanated perimenopausal and menopausal women with all-natural products that help alleviate the "Big M" symptoms like hot flashes, dry skin and sleepless nights. Read the full exclusive interview with Akanni Beauty founders to learn more about the Black queens that are the mastermind behind this revolutionary brand for women, especially women of color.
Angelica: What made you two want to launch Akanni Beauty?
Akanni Beauty: Three things. The look of products on the market, the lack of natural products on the market and the lack of representation for menopausal women of color. We were both in different stages of our menopausal journey and dealing with similar symptoms, for which no product that we wanted to use existed. With our combined knowledge and education to fill in the blanks, we came up with something spectacular that doesn't scream menopause.  
Angelica: Why did you two ladies want to launch a product line specifically geared towards menopausal women of color?
Akanni Beauty: If you google menopause,you rarely see women of color, especially Black women, represented unless in a "performative" one-in-ten picture nature. The representation doesn't match the reality or the research. Research shows women of color experience menopause earlier, longer and with more intense symptoms. Women of color have different skin concerns as well, and one of the changes during menopause is your skin. For instance, we may not develop wrinkles as early or severe as white women, but hyperpigmentation can be an issue especially as we age.   
Angelica: How is stress and menopause intertwined?
Akanni Beauty: Menopause is stressful in itself. When you add lack of sleep, changes in your skin, and brain fog to hormone changes topped off with a hot flash…it is a recipe for a bad day. At a base level, the hormones needed to help you deal with stress aren't producing enough. Specifically, progesterone which is one of the hormones prescribed by doctors in HRT (hormone replacement therapy). 
Some women choose to take the HRT route, but some don't.  Simple lifestyle changes may help. Valencia [Akanni Beauty co-founder] was prescribed a cocktail of HRT meds to help deal with hot flashes, mood swings, etc., but decided to naturally manage the symptoms that included the stress factor of menopause herself.  
Angelica: Which menopausal symptoms are diminished when a woman decreases her stress level?
Akanni Beauty: Overall, regardless of what stage of menopause a woman is in, decreasing stress is beneficial to your overall wellbeing. Stress signs, symptoms and solutions are as different as each woman is herself, and those things should be discussed with her doctor.  
Angelica: How does your products relax women and ease their transition into menopause?
Akanni Beauty: In all of our products we use various herbal and aromatherapy blends that may help women relax. In our bath tea, our combination of herbs like red clover and chamomile may help reduce night sweats, and calm the mind for a good night's sleep. The face/body mist has ingredients such as ginger mint, which is an exclusive blend of ginger root extract and peppermint for instant cooling.  
The aromatherapy benefits of the peppermint, lavender, geranium, and clary sage can work together for an overall calming effect. Our face oil is great for any place where you have dry skin. Women have reported that our blend gives them a noticeable natural glow that we tend to lose when aging. We bring in the blend of frankincense, lavender and clary sage for the effects on the skin and the aromatherapy benefits. Our products may help women's transition into menopause because it offers a natural alternative to some of the symptoms they experience.  
Angelica: How does a woman "keep her sexy" when experiencing menopause?
Akanni Beauty: Keeping your sexy while experiencing menopause starts with self-care. Most women that are menopausal age have experienced more time taking care of others needs before their own. If at no other time, menopause means "my" time. It is more than going to the gym or getting a massage. One of the definitions of sexy is appealing. A woman has to ask herself what makes me appealing to ME? Is it appealing to carry a product that screams menopause or a product that when you put it on it feels good, smells good and looks good? We believe more women will choose the latter that is why our packaging and aromatherapy profiles are important.
Angelica: Why did you two decide to come together as co-founders of Akanni Beauty?
Akanni Beauty: Both of us had a problem and were willing to find a solution. We came together with our combined knowledge and education to create Akanni. Akanni means "our meeting brings gifts, profitable encounter[s] and our encounter brings wealth" (depends on the source). Our goal for Akanni is bigger than a product, it is to encourage openness, discussions and real inclusion in the menopausal space. So hopefully an encounter with Akanni will be a gift for the women who experience it.  
Angelica: What role do each of you play in the Akanni Beauty brand?
Akanni Beauty: Shannon [Akanni co-founder] is an aromatherapist and herbalist.  Her role is to create natural herbal and essential oil blends that work together effectively depending on the product goal.  Valencia is the skincare formulator specializing in natural ingredients regarding what works best for the skin. Her role is to formulate Shannon's blends in a way that works in the products with added skin benefits. On the business side, we each have a hand in social media management, accounting and other aspects of running a business.  
Angelica: What's it like running a business with your best friend?
Akanni Beauty: It is a very interesting journey. We schedule weekly business calls but of course we have to play "personal" catch up first. Both of us lead busy lives and have children at home so we have to be flexible when it comes to business. The years of building our friendship which we consider a sisterhood helps. Living in hurricane states, we have to be prepared for the unexpected.  When Louisiana was hit hard by [Hurricane] Ida, starting the business was delayed due to the hurricane damage of Valencia's house. In any other business setup, that would have been a potential problem. For us, it was just another part of the business journey of Akanni.  
Angelica: What does the future hold for Akanni Beauty and you two as business owners?
Akanni Beauty: With the menopausal marketplace growing, Akanni is focused on the underrepresented and underserved. Women of color are starting to have discussions, embrace aging and menopause.  As they look for natural solutions, Akanni strives to become that household name. There are several symptoms of menopause. In time we will create products that help with more symptoms.  As business owners, we are looking forward to the day when we can hire someone to do some of the mundane business tasks. Time with our family is important to both of us, and having an employee will allow that quality time more.  
Angelica: There is currently an Akanni Beauty Etsy page, is there an Akanni Beauty website? If not, when will there be? 
Akanni Beauty: Our website should be complete by mid-summer. We decided on Etsy because it provided a place to park our products with the ease of use, [which] consumers [can] rely on.  
Angelica: How can customers reach you on social media?
Akanni Beauty: Instagram: @akanni_beauty 
Pinterest, Tik Tok and Facebook: @akannibeauty
Shannon Ward: @thereal_che_don on IG/FB
Valencia Griffin-Wallace: @valencia.gwallace on IG/FB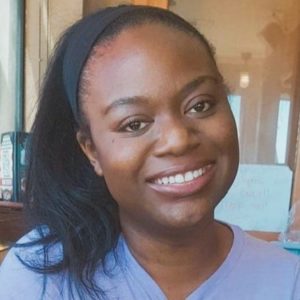 Angelica Cheyenne | Angelica Cheyenne is the Managing Editor of SwagHer Magazine, and is a contributing writer to BuzzFeed. Cheyenne also has over 6 years of experience in on-hair hosting, entertainment reporting, social media management and holds a B.A. in Communications and Journalism from California State University, Dominguez Hills.